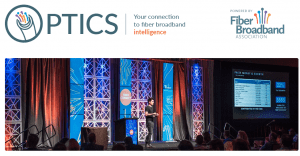 September 04, 2019
What do video games have to do with fiber broadband? As we learned from the opening keynote at Fiber Connect 2019 — quite a bit. In June, Matthew Gunnin, the CEO and Founder of Esports One, introduced the audience in Orlando to the rapidly growing world of professional video gaming and called on the fiber industry to meet the growing connectivity needs of gamers.
Over the past four decades, a small but passionate group of video game enthusiasts launched and grew the sport from humble beginnings in 1972 at the Intergalactic Olympic Spacewars in Stanford to the 1990 Nintendo World Championships. Today, esports has entered the mainstream. A shocking 400 million fans worldwide view esports either online, on TV or in person. In fact, more than 200 million tuned into last year's League of Legends World Championships alone.
Professional esports leagues and franchises abound. Fans pack huge arenas like the Barclays Center to watch their favorite games and players, and millions more tune in from their armchairs at home. Top universities like Michigan State, UCLA, Duke, and UNC, as well as high schools nationwide, also have competitive esports teams. Esports is big business, generating more than $59 million in ticket sales each year. Gunnin pegged investment in the industry at a cool $2.3 million to date and predicted that this would continue to grow.
But one key challenge facing the esports is latency in Internet connectivity. Most video games require Internet speeds of at least 10 Mbps to 25 Mbps; slower speeds cause lagging that kills games for at-home players. Anger and frustration can ensue when a slow connection causes a player's untimely death in an intense game. See this prank video by a Danish Internet provider to see how six young gamers reacted to a buffering game.
But in the professional world of esports, this challenge is particularly pronounced because the stakes are much higher. Gunnin explained that, in order to create an even playing field and avoid technical difficulties, franchises will fly all gamers out to the same location to play under the same roof. Professional esports teams simply cannot play remotely because of network latency problems, greatly limiting the number of competitions. Fiber offers low latency, so this presents a huge opportunity to bring blazing fast and reliable all-fiber networks to fuel the growing esports industry.
Both at home on the couch and in the largest stadiums and arenas worldwide, gamers need the best connection available — and that's fiber. Fiber broadband has a role to play in the growing esports industry. Now is the time to capitalize.
full article at https://optics.fiberbroadband.org/Full-Article/gamers-need-fiber-to-solve-one-big-problem